In this exciting new release by D. C. Rush the bully learns a lesson.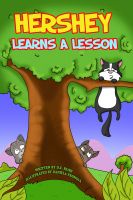 About the book: Hershey, the notorious cat from the Robby's Quest storybook series, is still mean-spirited and a bully. Hershey is big, strong and very fast, yet uses all his skills for the wrong reasons; to prey upon the smaller and weaker animals around his yard.
Nomi, the other cat living in the same house, is older and much smaller. Nomi has many friends around the neighborhood. One day, when Nomi's new friend Tyson comes over for a visit, Hershey decides to attack the smaller cats, however things do not work out as he planned, and Hershey finds himself in a situation that may change him forever.
Enjoy Hershey Learns a Lesson, a story about helping each other to develop new and lasting friendships.
Hershey is a big, handsome cat, but unfortunately, his beauty is only skin-deep. Inside he is a bully, he loves nothing more than to frighten other animals, and this includes Nomi, an older but very pretty tan coloured cat who lives in the same house.
If you are fans of the Robby's Quest series of children's books, you will already have met Hershey, as the villain, a couple of times before, when he terrorises the birds. In this books he's still up to no good, he even steals poor Nomi's food, but what can she do, after all, he's much bigger than her.
It seems as if there is no way to stop Hershey's reign of terror. However, one-day, Nomi's friend Tyson comes to play with her. Horrible Hershey spies them, and when he creeps up and scares Tyson, the events which follow, turn the tables on Hershey and change his life forever.
Suddenly, Hershey is scared and needs help. For the first time, he's no longer in a position to be bully. However, luckily there are nice kind cats, and when Nomi and Tyson discover his problem, they help him and teach him a valuable lesson at the same time.
The author has combined a wonderful story with a clear message, a great book which is beautifully illustrated by Daniela Fongia.
Available:
from Amazon on Kindle:  http://www.amazon.com/Hershey-Learns-Lesson-D-C-Rush-ebook/dp/B00I0YQJK8/ref=sr_1_1?s=digital-text&ie=UTF8&qid=1390764162&sr=1-1 
and Smashwords: https://www.smashwords.com/books/view/401246