Enter the giveaway at the bottom of this blog for a chance to win your very own copy of Aunt Phil's Trunk by Laurel Downing Bill.Vol 1 & 2.
Aunt Phil's Trunk: Volume One by Laurel Downing Bill
Th
is talented author's love of Alaska shines through as she tells the world of its past.
In this, the first book in the series, the author takes her readers right back in time, to when the first Alaska Natives arrived, there after crossing the Bering Sea Land Bridge,  thousands of years ago, and through history until the famous Klondike Gold Rush in the nineteenth century.
She does this wonderfully, bringing the history of this amazing place to life, through short stories, which vary tremendously. Through her brilliant penmanship, she brings alive the lives of these people who made this made this land their own under incredibly harsh conditions'
For me, though, I have to say the wonderful collection of hundreds of pictures were the icing on this most enjoyable cake. Being able to actually SEE the people who were alive in those times past is a joy I will never tire of, and it enhanced even more (if possible) my enjoyment of these wonderful tales.
I have never been to Alaska, however I would love to do so, especially having read this book.
Reviewed by Susan Keefe
Aunt Phil's Trunk: Volume Two by Laurel Downing Bill
As this talented aut
hor digs yet again into Aunt Phil's Trunk, we discover, in this volume, the continuing history of Alaska, in a far shorter period from the end of the nineteenth century to 1912.
True grit, and determination are the words which come to after having read this book. Its short stories tell of the true frontier spirit of these brave souls who came to Alaska from all over to try their fortune in the glorious gold-rush days. From the prospectors, to the vaudeville actors who came to entertain them, from the criminals and the lawmen to a volcanic eruption, the reader cannot fail to be entertained.
Through this very talented author, the true adventures in this harsh landscape is brought vividly to life, not only by the wonderful collection of stories but also by the incredible collection of hundreds of photographs which help to make this book so amazing.
Reviewed by Susan Keefe
Contact: Laurel Downing Bill
Email: auntphilstrunk@gmail.com
Website: http://www.AuntPhilsTrunk.com
Facebook: http://www.Facebook.com/LaurelBillAuthor
Twitter: http://www.Twitter.com/LaurelBill
Google +: http://www.plus.Google.com/LaurelBill
YouTube: https://www.youtube.com/channel/UCmh0wCifvbXYsVg5IkawkyQ
 Alaska History Decoded!
 Aunt Phil's Trunk, volumes 1 and 2, feature Alaska history stories written by Laurel Downing Bill and her late Alaska historian aunt, Phyllis Downing Carlson. The photo-laden books are a delightful journey through Alaska's rich past.
Released in April 2006, Volume 1 includes stories from early Alaska up to about 1900. Tales include nuns mingling with rough-and-tumble adventurers on the banks of Nome, the last shot of the Civil War booming in the Bering Sea and the scoundrel Soapy Smith serving as an angel of mercy before he became the undisputed king of crime in Skagway. 
From grizzled old prospectors to poke-stealing highwaymen to the magic of Alaska Native shamans, this book is a treasure trove of nonfiction short stories about Alaska's colorful past and is filled with more than 300 rare historical photographs. This volume ends with the famous Klondike Gold Rush. 
Volume 2, released May 2007, picks up where Volume 1 ends – right around the Klondike Gold Rush – and ends in 1912. It includes stories about Alaska's early lawmen, and the criminals they pursued, along with pioneering postmen and rugged adventurers who challenged the Great Land's highest peaks. 
The second collection of stories also shares how towns like Fairbanks, Valdez, Cordova and Seward were born, the Iditarod Trail was blazed and the largest volcanic eruption of the 20th century.  This volume contains close to 350 historical photographs to complement the lively storytelling. 
This series of books, suitable for ages 9 to 99, is a labor of love from a niece who wanted to keep the legacy of her aunt alive. When Carlson, a well-known Alaska reference librarian at the ZJ Loussac Library in Anchorage, passed away in 1993, Bill inherited her aunt's research, award-winning historical articles and rare Alaska books. Bill has spent the past several years organizing and editing the historian's work and writing her own pieces to dovetail with Carlson's. 
Aunt Phil's Trunk volumes 1 through 4 are available through http://www.AuntPhilsTrunk.com and Amazon.com.
Volume 1: http://j.mp/SSiIKX
Volume 2: http://j.mp/SSiOT1
Volume 3: http://j.mp/SSjEz2
Volume 4: http://j.mp/SSjR5q
The print versions retail for $19.95. Ebooks sell for $14.95.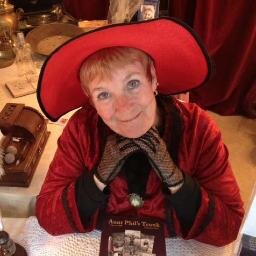 Biography Laurel Downing Bill 
Born in Fairbanks, Alaska, in 1951, Laurel Downing Bill moved to Juneau in 1959 after her father, Richard Downing,  
became the state's first commissioner of public works. Eight years later, she began traveling when her father took a job with a company building roads and bridges around the world.
Laurel returned to Alaska in 1970, where she eventually met her husband, Don, in Fairbanks. In 1974, the couple moved to King Salmon, a small village about 360 air miles southwest of Anchorage, where they raised their two children, Kim and Ryan. Don worked as area biologist for the Alaska Department of Fish and Game Commercial Fisheries Division and Laurel worked her way up to assistant general manager for the Bristol Bay Telephone Cooperative Inc.
After 24 years, they retired into Anchorage, which is when Laurel received her late historian aunt's body of work. Phyllis Downing Carlson, who passed in 1993, worked as the Alaska reference librarian for Anchorage's public library and wrote award-winning stories about the state she loved.
Laurel decided to turn her aunt's work, as well as her own research into Alaska's colorful past, into articles for new generations. However, she knew she needed to know about researching, writing and publishing to do the job right, so she returned to college to learn everything she could to make her project successful.
At 52, Laurel graduated from the University of Alaska Anchorage in 2003 with a degree in journalism and a minor in history.
She became one of the main reporters for a weekly newspaper, The Anchorage Chronicle, during her junior year and birthed an Alaska history column titled Aunt Phil's Trunk. The column continues to be printed today in the monthly newspaper, The Senior Voice.
 After receiving an enthusiastic response to her column of tales from Alaska's days gone by, she turned her attention to developing the state's history from thousands of years ago – when the Native people first arrived in the country – up to the present.
Volumes 1, 2, 3 and 4 – released in 2006, 2007, 2008 and 2009 – are flying off shelves of both major and independent bookstores, as well as Amazon.com and gift shops and chain stores across Alaska. She's currently working on Volume 5.
Her award-winning stories have appeared in newspapers across Alaska, as well as the Alaska Magazine, Mushing magazine and First Alaskans magazine.
Sample of reader comments:1. Laurel, I don't think you realize how many people enjoy this series. Anyone interested in Alaskan history must have these books (I have all four). Every time I'd go into a store (Fred Meyers, Carrs etc,), I go to the book section to see if Volume 5 was out yet. The subjects are short enough to prevent being boring but informative. I can't wait till No. 5 comes out! – Larry Anderson, BP Exploration Alaska.     2. Hi Laurel! I am still re-reading your books – I met you at a market, maybe Anchorage, a couple of years ago whilst on my dream trip to Alaska. The gold mining days must have been a great adventure, although dangerous. You weave a great story – thank you!  – Rosey Sandford, Townsville, Australia.3. Got your books and can't get anything done. I sampled one before going back to critical activities, but it's like sampling a new flavor of a gallon of ice cream. "Even a gallon is a sufficient sample," you grumble as you try to get your face into the carton to lick the bottom. – Larry Winebrenner, Miami Gardens, Florida.4. These are the first books I've read in years and couldn't put one down once I started! Cindy Yates, Anchorage, Alaska. 5. Hello Laurel, I received the books today!  Thank you and I am enjoying reading the first book, which I took home with me, and it is so interesting, keeps me spellbound!!  Thanks again! – Donna Morgan, Nome, Alaska. 6. I have enjoyed all three immensely — but then I love adventure.  Congrats on such wonderful, mind stimulating reading — just the right mix of pics and words — in short stories. The stories are as big and satisfying as Alaska itself. – Steve Wharton, Indiana
Link to sign up https://docs.google.com/forms/d/18qTSCsotDeIDgKdkArp-Pe3YC2mG9pfT8S06glAsZwI/viewform
Review 1 – Aunt Phil s Trunk: Volume One – Review from Fairbanks Daily News-Miner David James, Reviewer – June 17, 2007
Aunt Phil's Trunk: Volume One, published last year, was an unexpected gem. The book was a compilation of historical essays about early Alaska, ranging from Native life in the pre-contact period through the era of Russian possession, and onward to the purchase of the territory by the United States and the gold rushes that ensued a few decades later.
Most of the book's stories were compiled by the late Phyllis Downing Carlson, a near-lifelong resident of the state who published many of these tales in numerous publications. When she passed away in 1993 at the age of 84, her countless files fell into the hands of her niece, Laurel Downing Bill.
As luck would have it, Downing Bill also has a flair for writing and a passion for Alaskan history. As a memorial to her aunt and a gift to the rest of us, Downing Bill has been organizing these stories, adding her own details, exhaustively illustrating them with period photos, and publishing them in books which deserve to be snatched up by anyone with an interest in our state's rich past.
Review 2
The Anchorage Times – Anchorage Daily News/Voice of the Times – William J. Tobin, senior editor – June 18, 2006
While handing out compliments, let's give a big pat on the back to Laurel Downing Bill, who has just published what she calls an Alaska historian's collection of treasured tales. It's a beautifully printed 344- page soft-cover book, Aunt Phil's Trunk, illustrated with a hundred or more great old photos that dramatically show what life was all about in Alaska's early pioneer days. The illustrations alone are worth the $19.95 price, but the narratives from front to back are equally praiseworthy.
This book contains a collection of Alaska history stories written by Phyllis Downing Carlson, as well as stories written by Laurel Downing Bill that came from tidbits found among the notes and rare books Bill inherited when Carlson died in 1993. For those who love Alaska history, this easy-to-read collection is highly recommended.
Review 3
Amazon.com – Lorrie Farrelly, Reviewer – March 2014
AUNT PHIL'S TRUNK, VOL. 1, by Phyllis Downing Carlson and Laurel Downing Bill, is a wonderfully written, eminently readable, and richly illustrated narrative of Alaska's history up to 1900. Ensuing volumes – including one expected to be released within the coming year – continue the story through the 20th century.
I especially loved the wealth of vintage photographs in these pages that made frontier Alaska spring to life. So many cultures and so many characters populate this book: native tribes, Russian and American explorers and fortune hunters, trappers, prospectors, merchants, heroes, shamans, and scalawags. They are all here in their wild and woolly glory, pitting themselves against one of the most beautiful and forbidding landscapes in the world. In pre-1900 Alaska, fortune and disaster are never more than a hair's breadth apart.
AUNT PHIL'S TRUNK is full of well-researched tales both wonderful and tragic. Written in a clear, coherent, and evocative voice, it is a fascinating window to Alaska's wild past. Highly recommended!