A lovely children's story beautifully illustrated.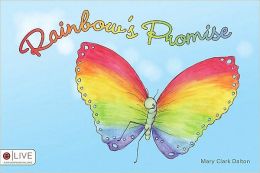 Available in Paperback from Amazon http://www.amazon.com/Rainbows-Promise-Mary-Clark-Dalton/dp/1616636351/ref=cm_pdp_rev_itm_img_1
Amazon Kindle here http://www.amazon.com/Rainbows-Promise-ebook/dp/B0046ED24W/ref=sr_1_5?s=digital-text&ie=UTF8&qid=1359979608&sr=1-5&keywords=rainbow%27s+promise
At Barnes & Noble in Paperback here  http://www.barnesandnoble.com/w/rainbows-promise-mary-clark-dalton/1025037244?ean=9781616636357
Rainbow the caterpillar is very sad; all his friends are butterflies already! His mom tries to tell him to be patient and enjoy his life as he is for now, but he just can't.
Join Rainbow as he meets new friends and has adventures, whilst he waits to become a butterfly.
As a mother and grandmother, I would thoroughly recommend this beautiful, brightly illustrated book, which will capture a child's attention with its engaging story whilst also gently teaching them important messages.