The Device written by Patrick Skelton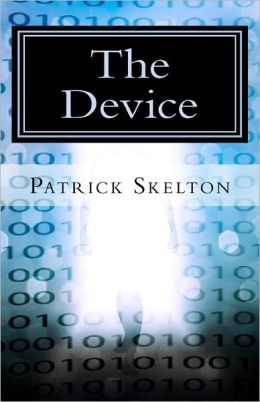 John Timmons is a man haunted by guilt over the death of his girlfriend, something he blames himself for. He is a very troubled man, with a sad past, medical problems and seems old before his time at only 24.
Whilst hiking in the mountains, John sees The Device on a log, in a ravine. After clambering down the retrieve it, he is still at a loss to know what it is. It is only the size of a mobile phone, and the only thing on it is a small hole, and the engraved words "Project Daf Yasfhat." What is it, and what does it do?
As the story unravels, his romantic relationship with co-worker Lisa evolves, and he meets Jacob, a mysterious man, who is not all what he seems.
This is a captivating story in which all the pieces knit together nicely at the end, as John's sad childhood, hidden pieces of the jigsaw, and unspoken memories are revealed.
The science-fiction element of this book is cleverly weaved into the very fabric of the story.
I reviewed this book as an audiobook and it was intriguing to listen to, the narrator, Kurt Feldner, has a very warm and engaging voice.
Available on Kindle http://www.amazon.com/Device-Patrick-Skelton-ebook/dp/B004LRP14S/ref=sr_1_1?ie=UTF8&qid=1400495768&sr=8-1&keywords=The+device+by+patrick+skelton 
and as an audiobook http://www.audible.com/pd/Mysteries-Thrillers/The-Device-Audiobook/B00FM0E3EM