A brilliant crime thriller.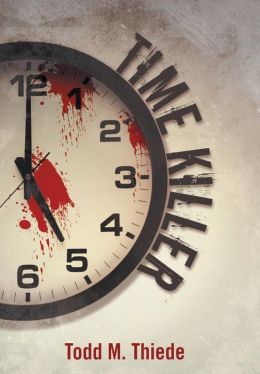 Available in Paperback from Amazon http://www.amazon.com/Time-Killer-Todd-M-Thiede/dp/1475972350/ref=sr_1_1?s=books&ie=UTF8&qid=1362220239&sr=1-1&keywords=time+killer+by+todd+m+thiede
and
Barnes and Noble http://www.barnesandnoble.com/w/time-killer-todd-m-thiede/1114267778?ean=9781475972368
When Stephen Bjornson wakes up drowsy and unable to move, he knows something is terribly wrong, but the nightmare has only just begun… Soon his family are dead and Rockton Illinois has a killer on the loose.
Detective Max Larkin works alone, so he's not impressed when he is teamed up with rookie detective and local girl Jesse Fairlane. However, before long a strong partnership develops as they try to capture the grizzly murderer.
The motive quickly becomes apparent, the victims have wasted the murderer's time and he doesn't like time wasters! Confirmation of this is written in their blood at the crime scenes, but he never makes a mistake and leaves no clues.
As the death toll rises, the young detectives discover the murderer has struck before, and their partnerships tested in unimaginable ways as they try to find a lead.
Will they discover who the serial killer is?
Why does time wasting anger him so?
I couldn't put this book down, and would thoroughly recommend it. The storyline is brilliant and there are some great twists.